Main Page
From Adcon Support
What is the ADCON Wiki?
Welcome to the ADCON Wiki! - If you are looking for answers to specific problems, need general technical support, then this is the right place to go!
If you are looking for product specification and technical details, please visit the official web page at https://www.adcon.com
Looking for technical information for ADCON products?
| | | |
| --- | --- | --- |
| | Note: | IMPORTANT : If still using any version of addVANTAGE PRO 6.6, 6.5 , 6.4 or earlier, check for upgrade your Software asap !! |
---
| | | |
| --- | --- | --- |
| | Caution: | Please do not upgrade your JAVA 8 to JAVA 9. JAVA 9 seems not to be backwards compatible with our products A850 GUI and RTU GUI.!! |
---
| | | |
| --- | --- | --- |
| | Caution: | Check the APRO Server Health Panel, weekly. If still working with Version 6.5 or earlier version, make sure your backup is ok and verified!! |
Software
Manuals
RTUs
Gateways / Receivers
---
Discontinued Gateway types (no firmware updates available)
---
Accessories / Tools / Adapters / Sensors / Hardware
RMA (All about repairs)
Trouble Shooting
SDI12
Installation Info and Pictures
APRO Weather Links
INFO
LINK
Type
APRO Demo Server LiveData Map
[4]
LiveData Map View / Overview
APRO Demo Server LiveData List
[5]
LiveData List View / Overview
Adcon Weather Station
Klosterneuburg
[6]
LiveData Direct Link
Muckendorf Public Trend
[7]
Public Trend
Muckendorf Live Data
[8]
LiveData Direct Link
Stockerau Weather Info Text
[9]
[10]
WAP Link
Training
Online Trainings / Webinars
| | | |
| --- | --- | --- |
| | Note: | NEXT TRAINING WEBINAR: GPRS connection parameter - 2017-11-29 / 4pm TZ vienna. |
 Part 1 
Information (~30 to 45 Minutes)
Part 2
Question and Discussions (~15 to 30 Minutes)

To join the online training, answer to the invitation email
as soon as possible, at least 24 hours before the training
starts, including the details

- your email address
- your name
- company or organisation name

For further details and the last minute login follow the
LINK Online Training

Adcon Terminology
A comprehensive list with proper explanations can be found here.
emu3ap

Emulation software for addVANTAGE 3.45 to allow local and radio communication via a serial or telnet interface. This interface was used for all communication between addVANTAGE and the A730SD receiver. It was also implemented into the A840 Telemetry Gateway for those who wanted to use it with addVANTAGE 3.45 rather than addVANTAGE Pro. It is no longer implemented in the new A850 Telemetry Gateway, and is no longer supported or developed.

RTU

Remote Telemetry Unit, such as A733, A723, A740. This term refers to both radio (UHF) and GSM/GPRS devices.

LoS

Line of Sight. When manufacturers of radios talk about transmission distances, they always refer to unobstructed Line of Sight transmissions. The distances that can actually be achieved vary greatly, depending on lots of circumstances, such as the installation height of the RTU and the receiver, obstacles between the two (trees, mountains, power lines, buildings, ...), atmospheric conditions and others. So please don't take LoS transmission distance for granted for your specific installation!

DEVID

Device identifier: this is the serial number of an RTU

GUI

Graphical User Interface

CLI

Command Line Interface

SST

Sensor Supply Time, this is the time a sensor requires to provide a stable output. For most Adcon sensors this is typically 2 seconds or less.

SLOT

Averaging Time of the RTU

POLL

Request for RTU data
Lost or Forgot password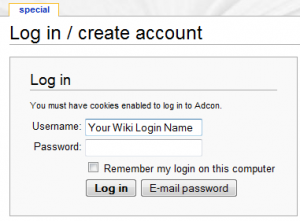 Go to the login page Special:Userlogin
* enter your login name and choose E-mail password.
* A new password will be sent to the email account given at
  the first registration.